Fulfillment – defined variously as 'measuring up to,' 'completing', 'bringing into effect' and so on – must rank as one of life's great emotions whether applied to one's job, one's promises, one's dream or in fact any form of human endeavour. And it is fulfillment that we felt when watching this desperately poor Batticaloa cook, who tried – even without adequate pots and pans – to eke out a living in the war ravaged East of Sri Lanka. He was one of many beneficiaries of the MJF Foundation's Small Entrepreneur Programme. Together with the others that formed this 2nd batch of recipients, in July he received the equipment he needed to develop his business, catering for the weddings and other celebrations in Batticaloa. There is not much to celebrate in Batticaloa today, but as the people of the East slowly raise their heads after decades of violence, it is the cooks, the bicycle repairmen, the teachers, the farmers who will most tangibly bring hope and life back to this bullet ridden economy.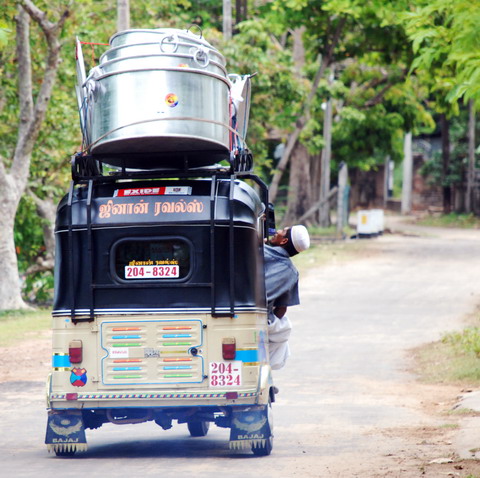 As he transports his trishaw load of equipment, the wistful and unbelieving gaze at his cooking pots symbolises his emotion. The seamstresses, rope weavers, cooks, electricians, welders, farmers, hairdressers, carpenters and masons who formed the rest of the batch of 22 will be amongst those who help rebuild the local economy. For decades they were helpless victims of an useless conflict. In moving forward their energy, capacity and desire to succeed is a potent tool.
This is the flipside of doing business, for this and other MJF Foundation projects are made funded by revenue from the global sales of Dilmah. That is fulfillment – knowing that the success of one's 'Monday to Friday' will translate into weekend benefits for underprivileged in Batticaloa and elsewhere. Not only the success but also the expertise – you can read about an MJF Foundation project at Koul Ara, a tiny village in Southern Sri Lanka. This media coverage incidentally was not commissioned by either MJF Foundation or Dilmah, but by an international organisation which sought to study our methodology. Koul Ara exemplifies the potency of the concept of business as a matter of human service.