For centuries the world has valued tea more than any other herb. Of course there is coffee, but the bean only shares a faint glimmer of the brilliance in tea. Many will contest that statement, but the indisputable truth remains that tea is uniquely blessed with the influence of Nature across every sense, and therefore pure in its expression. Water, another drink whose natural origin is unquestionable, is like tea in that it cannot be made by man without the influence of Nature but quite distant from tea in its expression of its beauty.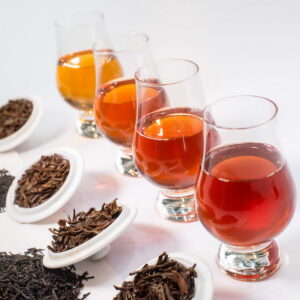 Tea from Nuwara Eliya, one of the most famous terroirs in Sri Lanka, is sometimes imbued with a subtle but distinctive floral fragrance, which continues on the tongue as a brightness that insists that even tea tasters engaged in tasting a 'batch' savour every sip. When that refinement emerges from the ordinary depends entirely on the weather. Across the hills in the Uva valley there is similar alchemy. As the dry and chilly 'kachan' winds course through the valley they excite the plants into a false sense of desperation that produces the spectacular minty, eucalyptus and honey notes in tea that only days prior was good but not this good.
Within the Uva valley a micro terroir in one estate across the valley from another that has been 'touched' by the seasonal quality, produces an even more elegant tea. The softness of the seasonal flush in that estate is a slow and romantic dance between two lovers whilst opposite a spectacular tango offers the energy and finesse of a beautiful seasonal tea.
Meanwhile, on Craighead Estate an indulgence beyond anything the finest caviar could induce, is being handmade. Fine Silver Tips, tests the limits of the English language in capturing a complex and unimaginably delicate white tea in the miniature buds of the tea plant. At the same moment creamy, soft, fruity, bright, delicate and wonderfully fragrant. Real white tea is a beautiful experience that every person should savour at least once in their life. The magical allure in fine tea is that the converse is equally true.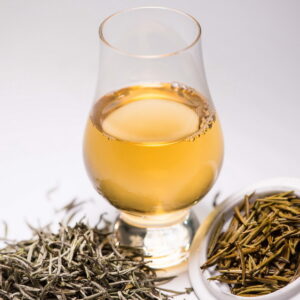 On Dombagastalawa Estate, a malty, slightly earthy pekoe presents entirely different texture, strength, flavour and fragrance. In the Ratnapura region, tea of a very different order is Nature's suggestion. No more elegance and subtlety but rich, robust flavours, fig, berries, molasses. So varied yet expressing only a fraction of the diversity in tea. Unlike wine all this complexity revolves around a single plant, camellia sinensis. It is not the tea that dictates its taste, but Nature – the environment in which each tea bush grows is what determines strength, texture, fragrance, flavour.
The teamaker too is only a tool in this process. By 'process' I mean the real way of making tea – the traditional, orthodox method which is artisanal in its nature, reflecting the same principle of preparing the leaf for drinking as practiced when tea was first discovered. This method demands time, expertise and expense but it is respectful of Nature, for it does not attempt to overpower Nature's work in the leaves but to nurture and express that in the terroir of each tea.
Tea has no equal and is undisputed in its uniqueness as pleasurable, natural, pure and healing herb. If that understanding has dawned on you, the rest is pure goodness.
This is the soul of the leaf, for tea is unique in being imbued with the fingerprint of nature in the fragrance, flavour, appearance and personality of each tea. There is so much more for that uniqueness assumes even greater distinction when the natural goodness in tea is considered. In a world where tradition is least respected, and time – even for brewing a cup of tea – is short, there is only one suggestion that I can make. Invest in a teapot – it will prove its worth as an investment. Show respect for good tea by brewing it right – good water, a good kettle, fine porcelain and the right number of stirs and time for brewing. Tea has no equal and is undisputed in its uniqueness as pleasurable, natural, pure and healing herb. If that understanding has dawned on you, the rest is pure goodness.