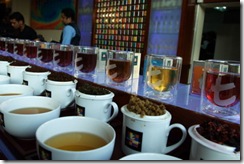 There's one part of life as we know it now,that seems relatively unaffected by the financial crisis – and that's tea. The tea market has seen some volatility but tea drinkers seem to be drinking more and better quality tea, and in spite of the best efforts of the coffee industry to discover health benefits in their beans, more coffee drinkers are also appreciating tea. The trend is driven by younger people desiring more natural, healthy beverages and tea fits the bill there. But that's not all for tea offers a lot more for the aficionado. These images are of the Dilmah t-Bar that opened in the Hilton Colombo earlier this week. True, as many who were at the launch commented, this is so unlike the tea they knew. And that's exactly the point.
Tea became the most popular beverage in the world after water, not because of the assortment of heavily branded, inauthentic and average quality teas one finds on most supermarket shelves today. It did so on authenticity – garden fresh tea, offering the unique terroir of its origin and harvesting season, and the enormous variety of taste, flavour and aromas that presented. Health of course, for tea began as a medicine and only then grew into a beverage, but enjoyment first of all. In the West, this happened at a time when family and small, owner operated businesses lovingly selected and brought tea from Ceylon, India and China to Europe, the US and England. All that changed when the big boys saw the opportunity for profit and bought out these wonderful businesses. The names may not have changed but their ownership, commitment and that all important aspect of 'loving tea' did. And the rest is history .. a new process to extract colour and some strength quickly, sacrificing the subtle sophistication of real tea, produced by the orthodox tea producing method. Eventually steady attrition of quality, origin and the hallmarks of the 'golden years of tea' until the brands, not the quality, became supreme.
That is where the Dilmah and our t-Bar come in. The unimaginable variety in tea, with its spectrum of taste, texture, colour, aroma and flavour, make tea more contemporary than any other beverage. The combination of 'assets' that good tea offers is quite honestly beyond the scope of any other beverage – bar none. Health, indulgence, variety, natural purity, aroma and gastronomic possibility (through pairing with food and so on)…..
Thirty delicious teas and infusions. Just the way you like it – hot, chilled, with spirits (as a t-Cocktail), matched with cakes and pastries, as an ice cream t-Shake, a t-Mocktail (with juices). The best tea for you is the tea you like best. Here you have a tea for every moment of the day, for every mood and every occasion. Tea is not 'just tea' – it became 'just tea' because a handful of uninspired corporations wanted to wring profit out of their acquisitions without understanding why they acquired them in the first place.
teatime rocks!