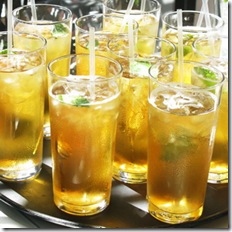 The irony about the Iced Tea trend – fuelled as it is by generations Y and X and their desire for naturally healthy products – is that most Iced Tea aren't either natural or healthy. If convenience is what you are after, then go for it, but if it is a soft drink substitute that is natural and good for you, think again. Every Iced Tea in stores today is a very unsophisticated and distant reincarnation of the tea some are used to drinking hot.
Simply put, they are tea that is made for you, using normal black or green tea – usually the most inferior of these, which offer thick liquor and strength. Once made, the liquid tea is subject to a variety of processes to remove sediment, enhance colour, preserve, flavour, sweeten, and sometimes add vitamins. And finally, the result is an often sweet liquid, heavily flavoured to mask the lack of real tea taste. Convenient but whichever way you look at it and regardless of the spin on the label, it's not really the tea that one expects.
There is an alternative, and until the real iced tea shows up, you only need to look to the past for the solution. Convenient it is not – but tea, including its preparation, presentation and appreciation – are a part of the ceremony that induces serenity and offers much more than natural goodness. The reverence with which the tradition of making tea has been regarded for centuries only confirms what most baby boomers have come to realise; that the ritual of making tea is an equal part of the very special enjoyment of tea.
And so, when you have 7-10 minutes free, give the Dilmah Exceptional Real Iced Tea Lemonade Recipe a go. The base is a light, bright, high elevation Pure Ceylon Tea – in this case Dilmah Exceptional Valley of Kings Ceylon Pekoe (available online at www.dilmahtea.com or in stores in New Zealand (Foodtown, Countdown), Australia (Coles, Woolworths and selected Independents), Russia and Poland).
To make 1 litre of Dilmah Real Iced Tea Lemonade,
1. draw 500ml of cold water from the tap (or preferably use spring water) into a kettle. Boil the water in the kettle.
2. take the freshly boiled water and pour into a clean, dry glass or china container of 1 Litre capacity, with 3 Dilmah Exceptional Valley of Kings Real Leaf bags. detach the tags from the bags and hold the teabags by their tags whilst pouring the hot water directly onto the teabags. Agitate the bags or stir to start brewing.
3. Cover the container and leave the tea to brew for 4 minutes. Stir and leave for a further minute, then remove the tea bags. Add 7-8 lightly crushed slivers of fresh ginger, and 10 – 12 crushed Mint leaves.
4. add 500ml chilled Lemonade (Schweppes, Sprite or 7Up), cover and leave to cool. When the tea has reached room temperature, chill in the refrigerator or pour over ice and serve in tall glasses with a Mint garnish. If you prefer less sweetness, use soda or chilled water instead of lemonade, for more sweetness, add acacia, linden or orange blossom honey to the tea after brewing and before adding lemonade, soda or water. Stir to dissolve the honey and then add the chilled lemonade.
Valley of Kings Tea Lemonade was served to guests at the Dilmah 21st Anniversary High Tea at Melbourne's Prince Hotel in February. The deliciously refreshing, liqht beverage was a perfect antidote to the heat.