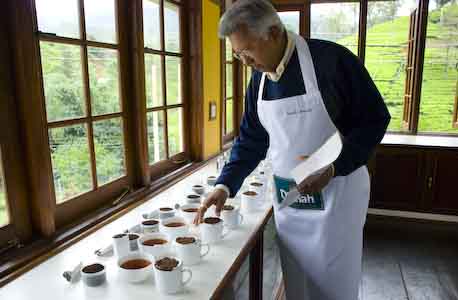 Passion. The word conjures up a myriad of images but the relevance of passion that ranks as most significant in our world in 2008, has to be that of 'dedication'. The concepts of 'specialization', 'a job for life' and 'devotion' to a mission' are mostly obsolete today, replaced by gross commercialism in every aspect of life, and the mediocrity associated with that. Yet as our world accelerates towards its soulless and profit driven future, the futility of that goal and the severity of its implementation make it obvious that passion is more relevant today than it ever was.
Passion is a differentiating ingredient that has led great men and women to excel through their dedication and commitment to a cause, whether a product or a philosophy or both. In the achievements of these individuals, it is clear that passion is more than an emotion which fuels individual drive and offers individual fulfillment. When directed towards a generally good objective, it has the potential to change change lives, for passion involves a complex of other factors which, through a simple but fierce commitment, can have much wider implications and benefit. As the passion of an individual nurtures and shares what is best in their area of dedication, that passion can be a powerful force for good.
My father, Merrill J. Fernando, proudly announces 'I have devoted my life to tea'. The image above, taken two days ago on Somerset Estate in Talawakelle, shows him aged 78, enjoying what he has done since 1950 – tasting tea. His vision may seem unsophisticated – tea is after all, 'just' a herb. But can one describe as 'just a herb' one that has a heritage of 5,000 years, offers protection against cancer, cardiovascular disease, Alzheimer's, Parkinson's disease and obesity and has at the same time brought countless families and people together in friendship? There are few men and women who are made in the same mold, amongst them Ernesto Illy, whose demise earlier this year was a tragedy for producers and for quality in the coffee industry. Others include men like Milton Hershey who, if their dream were alive today, could have resulted in a very different cocoa industry.
The strength and passion in my father's commitment to tea did much more than fulfill one person's dream. Although he may not admit it, that passion, and the single mindedness with which he fought disbelieving government ministers and officials, multinational and other vested interests and naysayers amongst his own countrymen, has driven along with it, the fortunes of an industry. His passion for tea ignited in him a desire to offer the real tea that he knows, to consumers, minus the blending, cost reduction and other 'corruption' of his beloved tea. That led to the birth of the first genuinely producer owned tea brand in the world.
Since then his stubborn pursuit of quality has brought Ceylon Tea back to supermarket shelves in a host of countries. In Australia and New Zealand, countries where traditionally consumers enjoyed fine Ceylon Tea, when my father's Dilmah made its debut in 1988 20 years ago, Ceylon Tea had disappeared from stores. The big boys will tell you that there was no demand but the reality is that they bought out all the wonderfully committed small, owner operated tea companies that brought colour to the tea category in these countries. Then when they went about seeking to profit from their investments, Ceylon Tea – with its high quality and correspondingly high price – was one of the components of their newly acquired brands that were cut.
Cost cutting is one thing, but cutting the heart out of a brand is another. These were brands built on Ceylon Tea. Not having a choice, of course consumers could not demonstrate their enjoyment of quality, Ceylon Tea. They did though, when little Dilmah emerged in a tiny corner of supermarket shelves, and it is consumers who saved Dilmah from an unceremonious demise when the big boys responded to my father's launch by reducing their prices well below his cost of production. That was just to oust him, and strengthen their stranglehold – fortunately consumers determined otherwise.
It is passion that has kept Dilmah afloat and interestingly has now given other producers the courage to bring their own brands to the market. It's not an easy proposition though but that's a whole different blog. The benefit of that passion, is that it has kept quality and choice in the tea category. In the early 1900s, tea became famous due to a vibrant and passionate crop of brands, founded, owned and operated by men who loved tea. Their demise and the sale of their companies to a handful of dominant corporations, robbed the consumer and the producer of their champions. My father emerged as a 21st Century champion in his passionate commitment to Quality, Ethics and Authenticity – ultimately to Integrity in tea.
Dr. Illy was the same, and the significance of these men of passion, is that they are helping or have helped resist the onslaught of bland but obsessively commercial brands bent only on profit maximisation. That applies equally to coffee and tea as to cars and cheese. Even today, the unwritten pact between some retailers and multinational corporation which supply 30-40% of the products offered in their stores, is a dangerous limitation of choice. It benefits those involved in the deal but not the consumer or the producer – to my mind, the most important 'cogs' in the wheel of commerce.
I have to generalise here – in its unrelenting pursuit of a fundamentally flawed definition of success, global business may be forgetting a simple truth, that it is the producer and the consumer who are the drivers of business. The reasons for that are described by Prof. Bakan in his book 'The Corporation' where he brilliantly charts the history and growth of corporations, which dominate trade today. And that is a real pity because the consumer has the power to change the destiny of the producer (through his or her purchases), and the producer has the ability to change the lives of the consumer (through quality, authenticity and innovation for health and well being). There is so much symbiosis there which is aborted only by the guy in the middle – not the importer, distributor and retailer, which are important partners in bringing produce to the consumer – but the corporations who seek to dominate markets, dispassionately disregarding producer, consumer and integrity in their quest for 'success'.
Ultimately, perhaps our consumer landscape will take on an Orwellian complexion; the corporations and their pursuit of profit and power may well evolve into the establishment of one supreme entity which will monopolise our lives. But in the meantime passion, and the expertise, involvement and dedication it brings, is our most potent, most just and most important weapon in delaying the onset of that terrible option.